Chevy Tahoe Vs. GMC Yukon: Performance, Interior, Towing Capacity

Thanks for checking out this Chevy Tahoe vs. GMC Yukon comparison page. These SUVs have tons of room, power, and features that make arduous road trips much more enjoyable. So is one better than the other? Possibly. We'll lay out the key facts and figures so you can head to the dealership confident in your choice. Make sure you get to the bottom because the winner of this contest might surprise you.
| | Chevy Tahoe | GMC Yukon |
| --- | --- | --- |
| Engine | 5.3L V8 | 5.3L V8 |
| Horsepower | 355 hp | 355 hp |
| Length | 210.7 | 210 |
| Towing Capacity1 | 8,400 lbs | 8,400 lbs |
| Third Leg Room | 36.7 | 34.9 |
| Suspension | Independent | Coil-Over Shock |
Chevy Tahoe vs. GMC Yukon Performance
Let's talk about the Chevy Tahoe for a second. You've got two V-8 options and a newly introduced six-cylinder diesel. All engines are supported by a smooth-shifting ten-speed transmission with RWD or AWD. That's some serious hardware to choose from. And if you opt-in for the Z71 model, you can add heavy-duty suspension, tires, and other equipment destined to do battle on the trails. The Chevy Tahoe horsepower is impressive. You've got 355 horsepower from the standard V-8, 420 horsepower from the larger V-8, and 277 horsepower in the diesel, which boasts a monstrous 460 pound-feet of torque.
Will you use a Yukon? When it comes to premium luxury products, you expect more. You expect different. Would it surprise you that the available powertrains in the GMC Yukon are the same ones used in the Chevy Tahoe? The AT4 trim also supports off-road adventures but shares many of the same attributes as the Z71. As you might expect, your GMC Yukon horsepower figures stay the same. The elephant in the room becomes pricing. Are you really getting more for the higher-priced Yukon? We think the winner in this part of the Chevy Tahoe vs. GMC Yukon comparison goes to the Tahoe.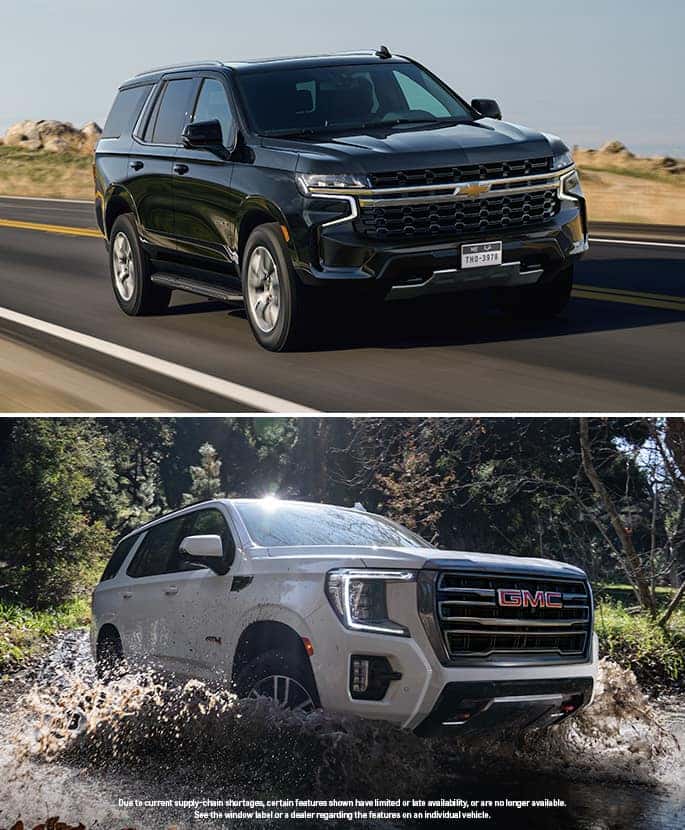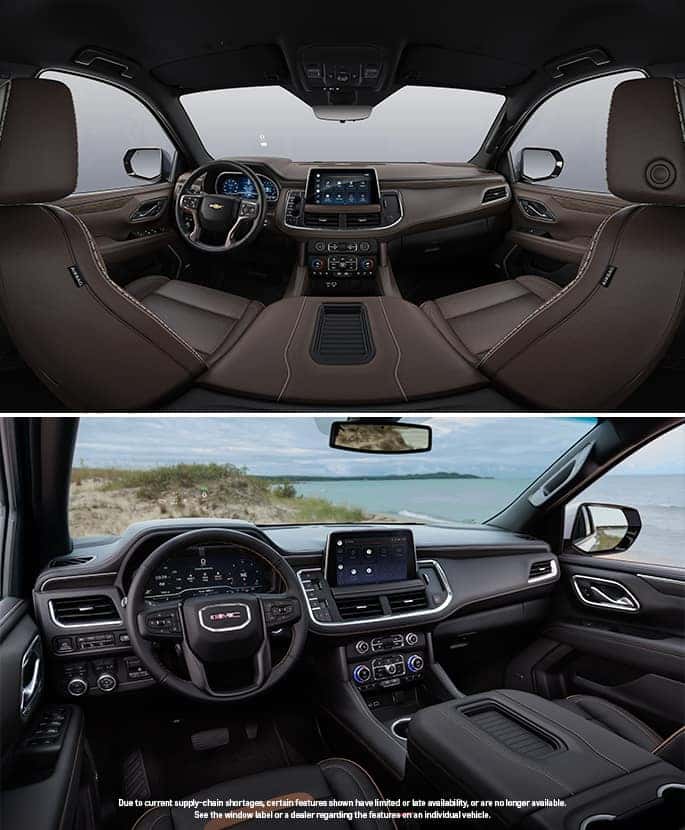 Chevy Tahoe vs. GMC Yukon Interior
By this point, you might be suspecting a trend. But let's not get ahead of ourselves. If luxury is what separates these two rivals, surely some major differences are waiting for you with the Yukon. With that said, let's first hop inside the Chevy Tahoe interior and see what we find. You'll love having three rows as a standard feature. The middle row can slide forward and backward, too. Seats fold flat for easy cargo carrying. Smartphone connectivity, WiFi, and endless charge ports are also standard. Premium features like rear-seat entertainment, massage seating, and ventilated seating are also available.
Now, what about the all-luxury GMC Yukon interior? We wish that there was something major to report in this aspect. But there isn't. With this truck, you can count on standard smartphone connectivity, apps, and WiFi. Cooled seats, massage seats, and rear-seat entertainment are also available. Spotters will notice that the touch-screen infotainment center is located below the dashed line, and an exclusive leather package is reserved for the top trim only. You'll have to decide if that six-figure price is worth that detail. When it comes to the Chevy Tahoe vs. GMC Yukon interior comparison, we think the Tahoe takes the golden ticket.
Chevy Tahoe vs. GMC Yukon Safety
The Chevy Tahoe knows what safety is all about. You've got numerous onboard alerts, security locks, buckle to drive, forward collision detection, lane-keep assist, lane departure warning, pedestrian detection & braking, follow distance indicator, 360 park assist, high-beam assistance, connected services, teen driver program, LED DRLs, traction assistance, and seven airbags.
The GMC Yukon has everything that the Chevy Tahoe has. The base model adds standard towing assistance, rear seat occupancy sensors, blind-spot monitoring, lane change alert, and hitching assistance. The Chevy Tahoe offers these features in packages and as options. So you'll have to decide if you want them as standard features if the entry-level model is your favorite. Overall, value still reigns supreme for us in this category. We think the Chevy Tahoe is well rounded on safety & value in this portion of the Chevy Tahoe vs. GMC Yukon comparison.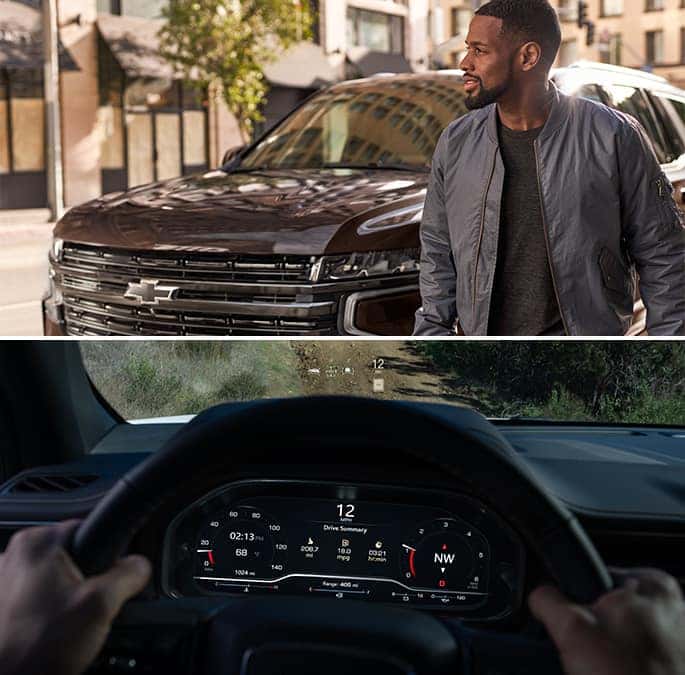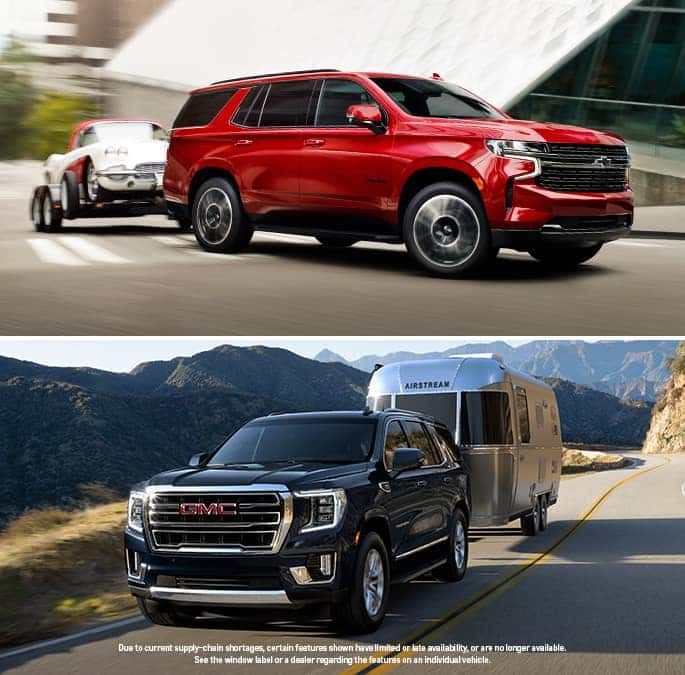 Chevy Tahoe vs. GMC Yukon Towing Capacity
We've talked a lot about the beauty aspect of these trucks, but let's go beast mode for a second. The 5.3-liter V-8 in the Tahoe can tow up to 7900-pounds when properly equipped. The 6.2-liter V-8 offers an 8300-pound max tow capacity when properly equipped, while the 3.0-liter diesel gives you an 8200-pound tow capacity when properly equipped. Chevy Tahoe towing capacity is work and play ready. So give it all you've got.
Spoiler alert: GMC Yukon towing capacity is on par with the Tahoe. But what do all these numbers mean, and how much tow capacity is enough? Canoe, paddleboard, and other light watercraft (plus trailer) are well under 1000 pounds. Dirtbikes, quads, or an adventure camper trailer are about 2500 pounds. Medium-sized campers are about 5000 pounds or a car trailer, plus a sports car will sit right under the 7000-pound mark. So who wins the Chevy Tahoe vs. GMC Yukon tow capacity section? Alas, it's a tie. See a Tahoe for yourself at the Chevy dealer in Florida that knows what value & performance is all about.
---
Chevy Tahoe vs. GMC Yukon FAQs
As you might have guessed by this point, we think the new Chevy Tahoe for sale will be all the truck that you and your family need. But if you need just a bit more information, here are some FAQs that might help you make your decision.
Is the Chevy Tahoe worth the money?
We think so. When you compare other luxury brands to this model, you won't find many that compete in size and power. Additionally, you can look at each trim level's price point and see how our most luxurious version gives you an advantage over the rest of the field. Plus, the Tahoe has won more awards than we can think of, in addition to being part of the long-lasting Chevy vehicle family.
Is a Tahoe a midsize or full-size SUV?
No doubt about it, the Chevy Tahoe is a full-size SUV. Stretching over 210-inches in length, you've got a gargantuan cabin with 178 cubic feet of total passenger volume. How much space is that, exactly? That's enough room for you to pick up 1,331.5 gallons of milk the next time you visit the grocery store. You better call ahead and let them know you're coming.
Why does GMC cost more than Chevy?
The GMC packaging is responsible for the higher price tag. As we saw above, the Yukon had only a few more standard features than the Tahoe. But is that enough to justify the jump in price? The Chevy Tahoe offers you and yours outstanding luxury, so if you can appreciate a wise investment, we think you'll find a winner with the Tahoe.
---
1Before you buy a vehicle or use it for trailering, carefully review the Trailering section of the Owner's Manual. The weight of passengers, cargo and options or accessories may reduce the amount you can tow.