Dyer Tire Program In Vero Beach, FL
The Dyer Tire Program at Dyer Chevy Vero Beach is here to help and encourage you to stay on top of your car's maintenance, oil changes, and tire services. Our dealership provides a service department and tire center to keep your vehicle running safely and at the factory standard.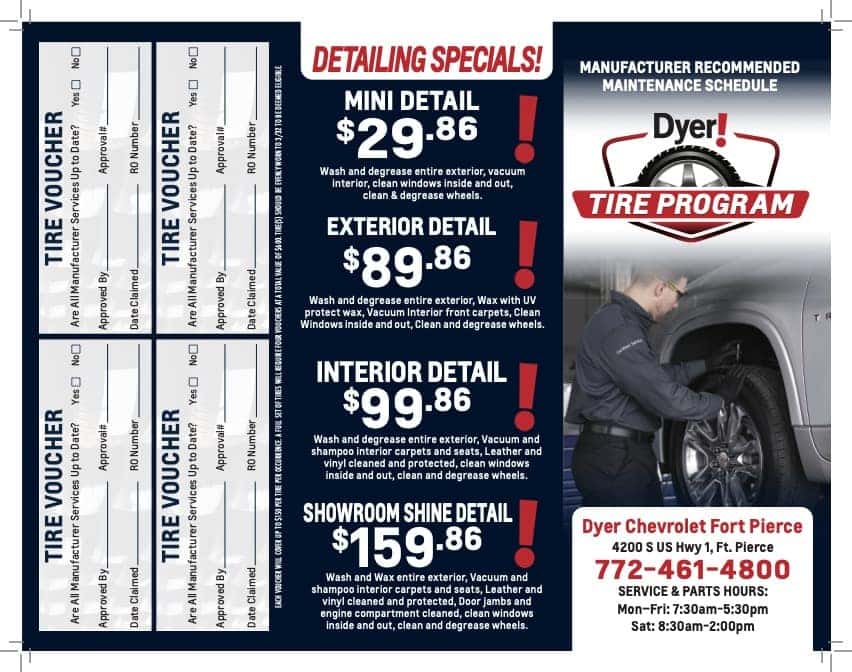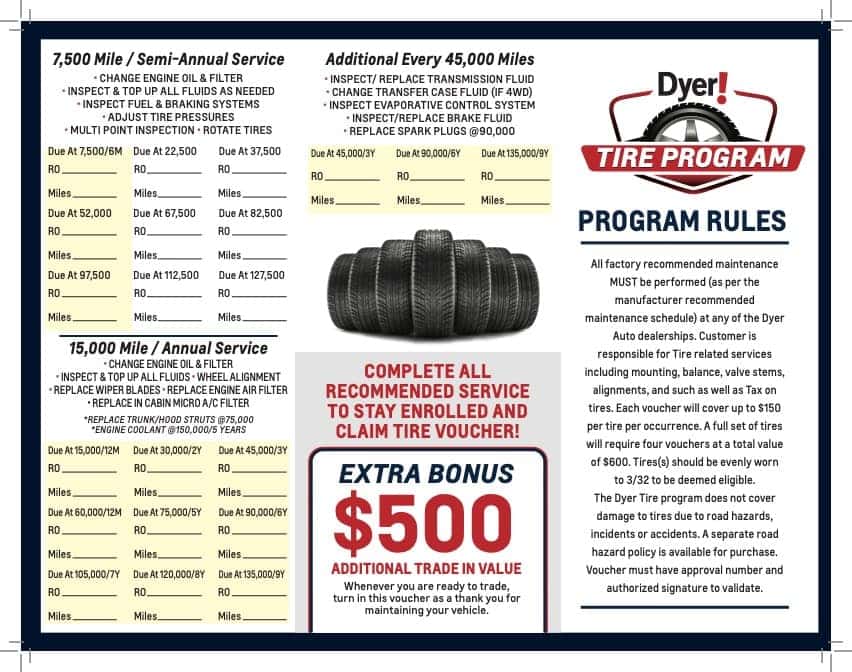 ---
New Tires for Sale in Vero Beach
When it's time for new Chevrolet tires, you'll find a wide selection of tires for sale in Vero Beach at our service center. Since Chevrolet makes a vehicle lineup that ranges from sedans to full-size trucks to performance vehicles, we stock a comprehensive selection of tires.
When you need off-road tires for your Silverado truck or summer tires for your Camaro sports car, we have plenty of sizes, brands, styles, and options. These are just some of the types of tires for sale at our Chevy tire center in Vero Beach, FL:
All-season tires
Touring tires
Grand Touring tires
Truck tires
Chevy SUV tires
Sports car tires
New Tires for Chevy Cars and Trucks
When you need new tires for your Chevy, the first step is knowing what your model requires. The easiest way to find the right size tire for your car or truck is to look at the tires currently on your vehicle. The tire size will be a series of raised block numbers and letters on the sidewall, such as 255/70R17.
255 indicates the tire's width in millimeters
70 indicates the aspect ratio (height of the sidewall) in millimeters
R indicates "Radial" construction
17 indicates the rim diameter in inches
Dyer Tire Program Rules
To take advantage of the Dyer Tire Program and receive a $500 thank-you, all factory maintenance must be performed at our Chevy dealer in Vero Beach or any of the other Dyer auto dealerships. Vehicle owners are responsible for tire-related services, including mounting, balancing, valve stems, alignments, and sales tax on new tires.
Each voucher will cover up to $150 per tire per occurrence. A full set of tires will require four vouchers at a total value of $600. Tires should be evenly worn to 3/32 to be deemed eligible.
The Dyer Tire Program does not cover damage to tires due to road hazards, incidents, or accidents. A separate road hazard policy is available for purchase at Dyer Chevy Vero Beach. The voucher must have an approval number and authorized signature to validate.