GM Military Discount In Vero Beach, FL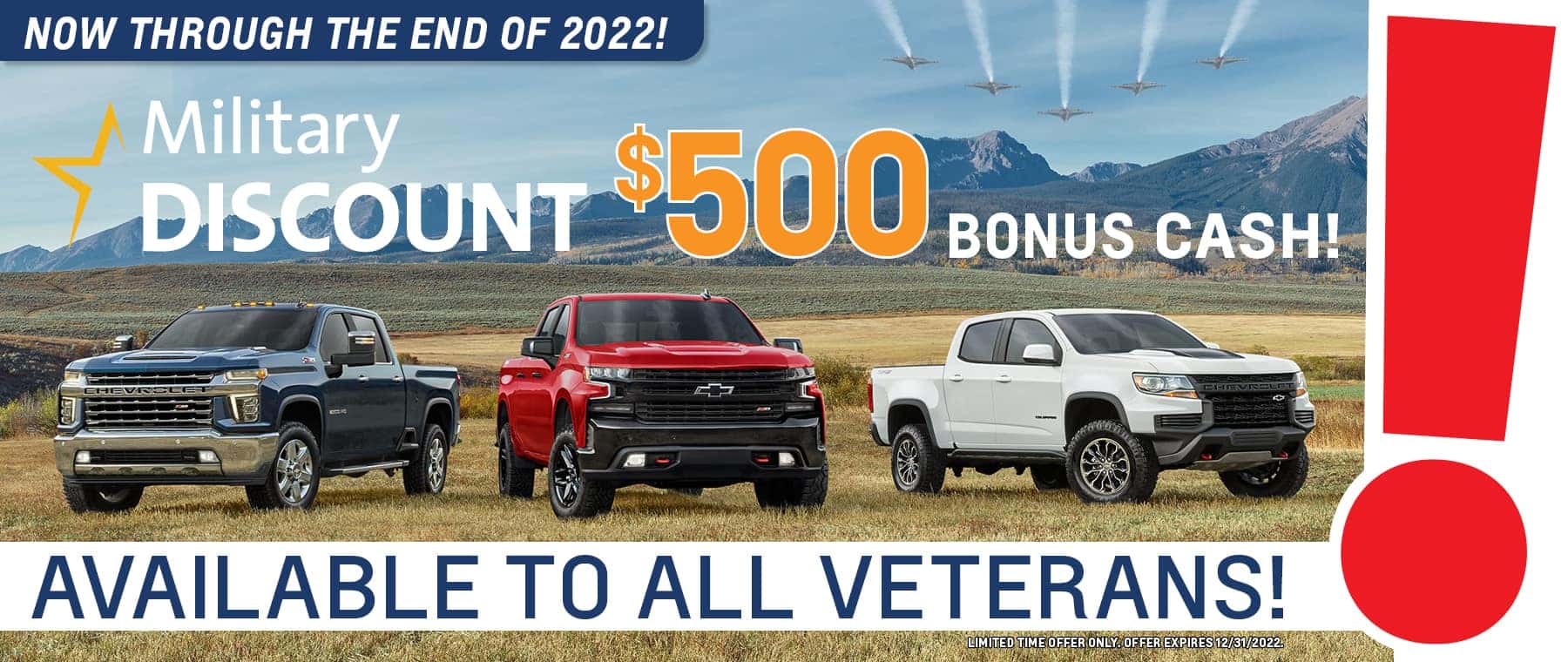 We say thank you to both active duty members and veterans through the GM Military Discount at our Chevy dealer in Vero Beach. The Chevy Military Discount is how our dealership acknowledges the unwavering bravery of the men and women of our armed forces and the sacrifice they make to keep our country safe.
Call our dealership today, and our team of Chevy showroom professionals will confirm your eligibility for the GM Military Discount and show you all of the eligible new cars and trucks in our inventory.
Use The GM Military Discount Now In Vero Beach, FL
Dyer Chevy Vero Beach is proud to offer the GM Military Discount to eligible US military members, retired military personnel, and all veterans. We're only able to do what we do because of our armed forces' courage, responsibility, and effort.
Our dealership offers the Chevy military price to the following military personnel.
All Veterans
National Guard Members
Reservists
Active Duty Members
Retirees of the United States Army, Navy, Air Force, Marine Corps, Coast Guard, and their spouses are eligible for the GM Military Discount as well. We salute all military personnel and their spouses and make it easy to verify your military discount eligibility.
Verify Your GM Military Discount At Dyer Chevy Vero Beach
We make it easy to confirm your GM Military Discount eligibility at our dealership in Fort Pierce. Use your Leave Earnings Statement if you're an active service member. Activated National Guard or Reserve members can use current orders showing your activation dates for verification too.
Apply for Veteran discounts through your DD214 form, and if you're a Military Retiree, you can use the following forms of documentation for verification.
VA Card
Retiree Account Statement
Retiree Verification of Pay Letter
Retiree Account Statement (eRAS)
Retiree Uniformed Services ID Card
Letter From VA Showing Service-Connected Evaluation
DAVPRM Uniformed Services ID Card
Our showroom professionals are ready to process your application at our dealership and provide guidance on how you can use the Chevy military price today. We'll deliver a new Chevy for sale to you at a price only available through the GM Military Discount.
Visit Dyer Chevy Vero Beach For the Chevy Military Discount
After you verify your GM Military Discount at our dealership, we'll show you how to combine your exclusive discount with other savings opportunities. We'll help you decide how much money you want to put down and can show you the process of securing a low-rate auto loan. You can apply for financing as well.
Dyer Chevy Vero Beach is proud to participate in this voluntary program and for the opportunity to give back to our military members and veterans in Fort Pierce. We look forward to introducing you to all of our active new Chevy deals and to delivering a hard-working Chevy model to your driveway.
---