Treasure Coast Lease Returns, Off-Lease Vehicles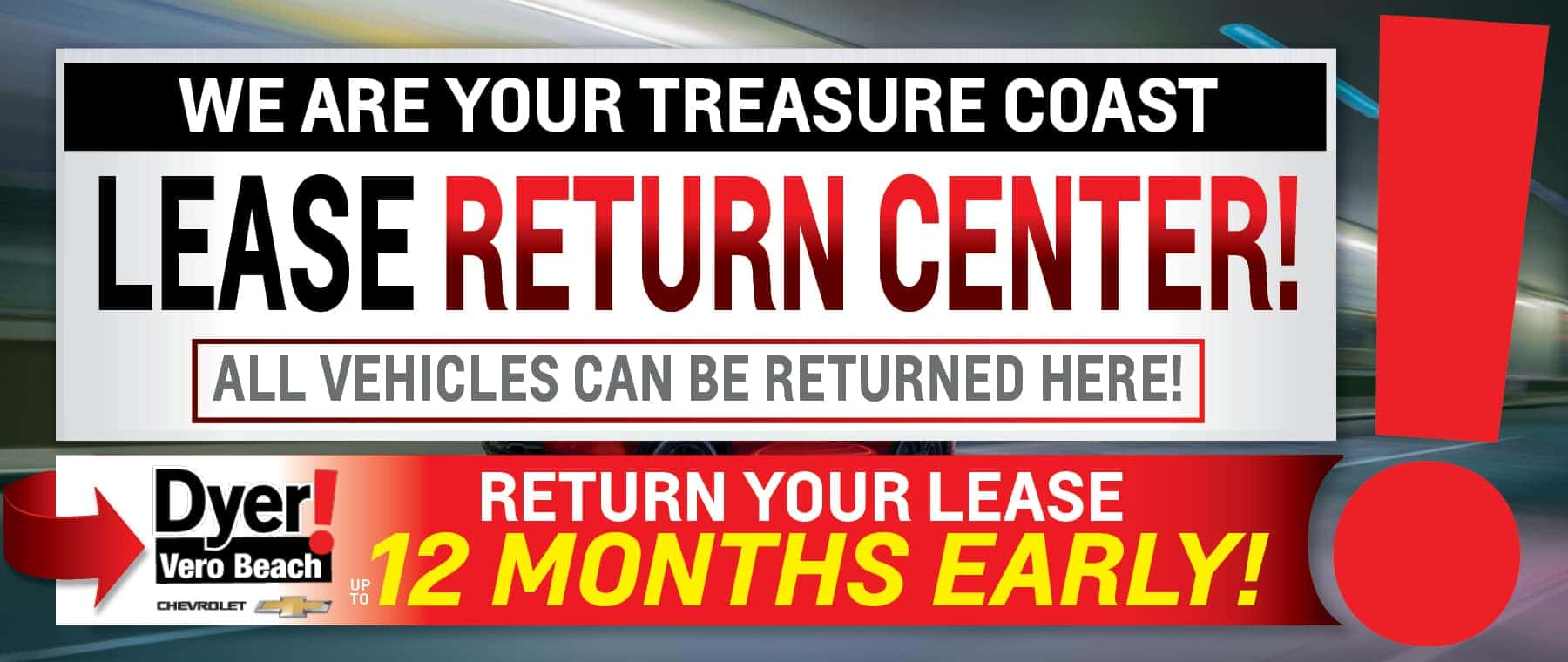 Drop off your lease returns in Vero Beach! The team at Dyer Chevy is standing by to make this often-tedious process fast, easy, and, dare we say, fun. On this handy page, we're going to tell you everything you need to know about the process of car lease returns. We're also gonna drop the awesome bomb where a lot of doubt and anxiety usually hides. Contact us today for your appointment or keep reading for more useful information. Incoming!
Lease Returns in Vero Beach Made Easy
If you lived about 300 years ago (please let us know ahead of time if you did), you could easily walk along the beaches of the Treasure Coast and find an endless supply of gold, jewels, and riches from shipwrecked galleons. While all of this surplus bounty has been claimed over the centuries, you can still find coveted items worth celebrating today from our inventory of new cars for sale.
You don't need to risk storms, swells, or wrathful corsairs to do it, either. All you have to do is visit our lease return center. Treasure Coast drivers rejoice! Here's how it will work:
Check in with reception
Meet with your lease return specialist
Participate in the lease return inspection if you like (about 10 minutes)
Sign the odometer statement
Settle any final paperwork or contract terms
And you're done!
This whole process will take about 15-20 minutes. Kick back and relax in our hospitality center, browse for your next vehicle (you do want to claim all those loyalty rewards, right?), or hang with your lease return specialist and see how the inspection process happens.
Lease Returns in Vero Beach Made Better
Awesome bomb time. Drop your Chevy lease returns, GM lease returns, or Dyer sister store lease returns right here. Twelve months early. Whoa. Wait. What? You can say adios to all those monthly payments adding up to a few thousand bucks that stand between you and your next new car! As you know, we do things a little differently here at Dyer, and our goal is to alleviate the financial stresses and concerns that can be associated with the transition to a new car.
Life's too short. Don't wait. Take the twelve. Get into that new car smell and never look back!
How to prepare for lease returns in Vero Beach?
Well, nothing can prepare you for how easy we're going to make all this, but here are some reminders that other customers have appreciated hearing before coming into the store:
Clean out your vehicle! Have all your personal belongings at home or ready to transfer.
Hit up Dyer Collision for a lease-return inspection. Let them iron out the creases, so you don't have to shoulder excessive wear & tear.
Locate that spare key and any accessories or equipment that you've stored in the garage.
Having those key details handled ahead of time will save you time, headaches, and money. If you have any questions, just drop us a note.
Lease Returns in Vero Beach FAQs
Ok, so you know that you can count on us for lease returns in Vero Beach, but what about purchasing them? Fear not! Dyer Chevy is your off-lease Treasure Coast super purchase center, too. Here's the big picture:
What is an off-lease car?
An off-lease vehicle is a car, truck, van, or SUV that was previously leased and then returned at the end of the lease term. Those vehicles are now available for purchase, and they make fantastic cars. They typically have very low miles, predictable service history, and are locally owned. They are oftentimes the current generation and have many (if not all) of the current year model's features.
Are lease returns a good buy?
When you grab one of our vetted lease returns in Vero Beach, then yes! You'll save tons off of the original MSRP and have the peace of mind knowing that inspections and services are current and that they're very likely a certified pre-owned vehicle.
Can you get out of a car lease a year early?
Every vehicle manufacturer has different terms and conditions. Some vehicles let you out of your lease with only 30 days to go, while other OEMs offer considerably more. Fortunately, the team at Dyer Chevy is offering an impressive twelve-month program on lease returns in Vero Beach.
Can I return other OEM brands at Dyer Chevy?
Yes and no. While our OEMs currently authorize us to terminate on-brand leases only, we can either ground your lease here as a convenience to you if your lease has expired or work in the remaining time left on your lease as a trade value. Please ask us for more details!
Lease Returns in Vero Beach for One & All
Sure, we're your Chevy dealer in Vero Beach, but we're also your friendly neighborhood collision and detail center, used car dealer, off-lease purchase center, and lease return oasis in a sea of automotive hassle from other retailers. Got a Ford lease return? We can help. As we've said previously, we can ground any other OEM if you have already arrived at the end of your term and your account is current. Got a Jeep lease return that is still a few months out? No problem. Let us inspect it and give you top dollar for it as a trade towards your next Dyer vehicle.
There might not be any more gold along the shores of the Treasure Coast, but you can still find something precious here at Dyer — where "!" marks the spot!
---