We appreciate your interest in our inventory, and apologize we do not have model details displaying on the website at this time. Please fill the form out below and our team will quickly respond, or, please call us at (772) 202-6984 for more information.

---
Chevy Silverado Eclipse Edition from Sherrod Customs on Vimeo.
For over 40 years, Sherrod trucks has been trusted by America's OEMs to be a final assembly point for vehicles destined to become more unique than the OEM intended. Fortunately, you don't have to travel too far to go and get one. You can find yours right here in Vero Beach at Dyer Chevy.
On this page, we're going to tell you about some of the killer upgrades that you'll only get with Sherrod trucks. Find a Chevy Silverado 1500 for sale. Then, imagine it taken to the extreme. That's what Sherrod trucks are all about, and you're minutes away from finding the perfect one to put in your driveway. That is if you think you can handle it.
Sherrod Trucks. "Building the Best."
Jack Sherrod founded the Sherrod Custom Truck center in 1979 with a passion for turning America's vehicles into what they could be. As the years rolled on, manufacturing became specialized. Technologies became more advanced. And today, Sherrod trucks roll off their final assembly line in Waycross, GA, with an attitude (and build list) that makes all the difference. When it comes time to choose a Sherrod lifted Chevy Silverado, you'll get to pick from the following three monsters:
The Eclipse Edition – As the name might suggest, when there is a solar eclipse, the lights go out. With menacing bold looks and enough carbon fiber and quilted leather to impress any exotic that you could run over (in stadium competition, of course), this blacked-out truck is as mean as it gets.
The LZ-1 Edition – Honoring the stars and stripes, the LZ-1 proudly displays old glory graphics along the side. Jack Sherrod is a decorated veteran himself, and he personally oversaw the details that went into this incredible vehicle. If you're made in the USA, this is your truck!
The Signature Edition – Whose signature? Your signature. While all Sherrod trucks offer incredible upgrades and room for personalization, this is the model where you can have the greatest impact on the final design. Talk to one of our specialists and discover just how authentically yours the Signature edition will be.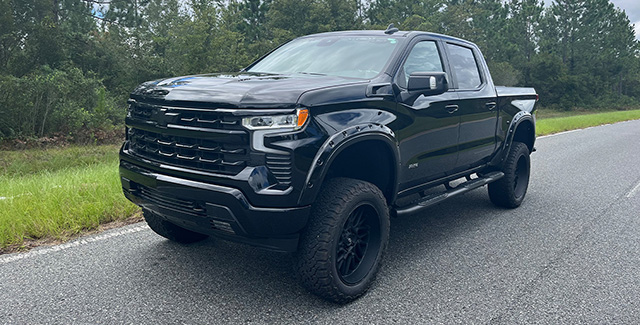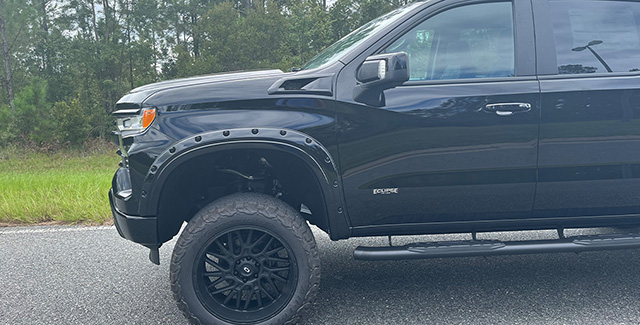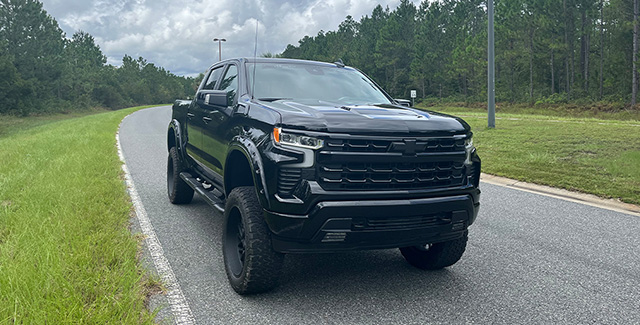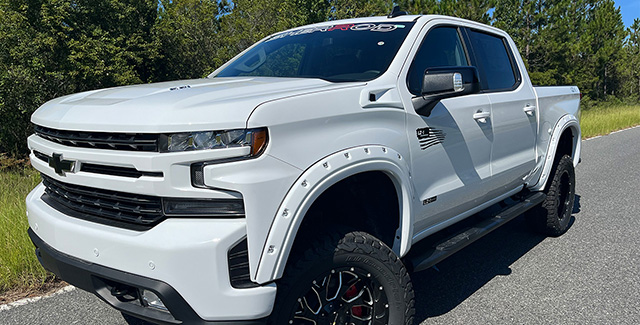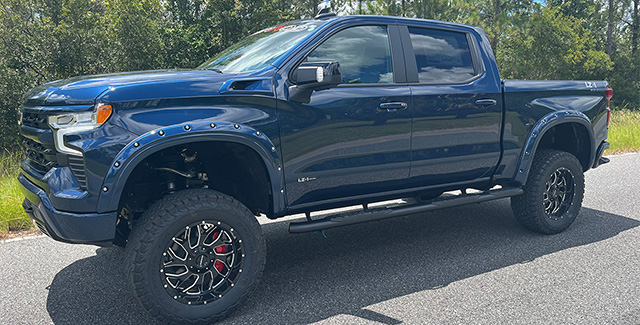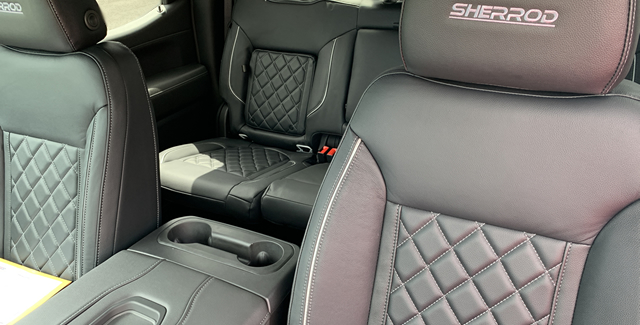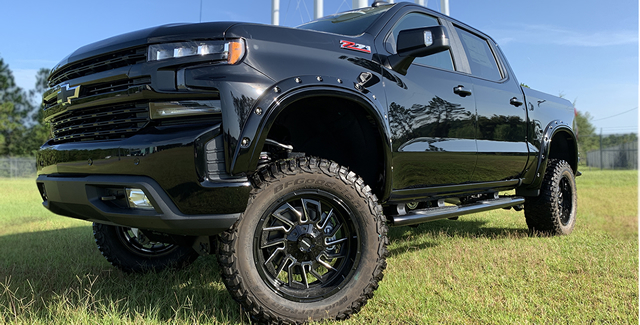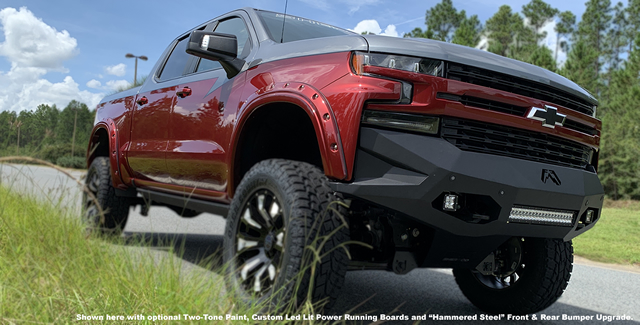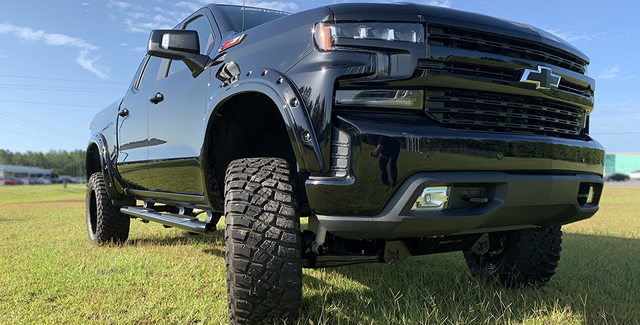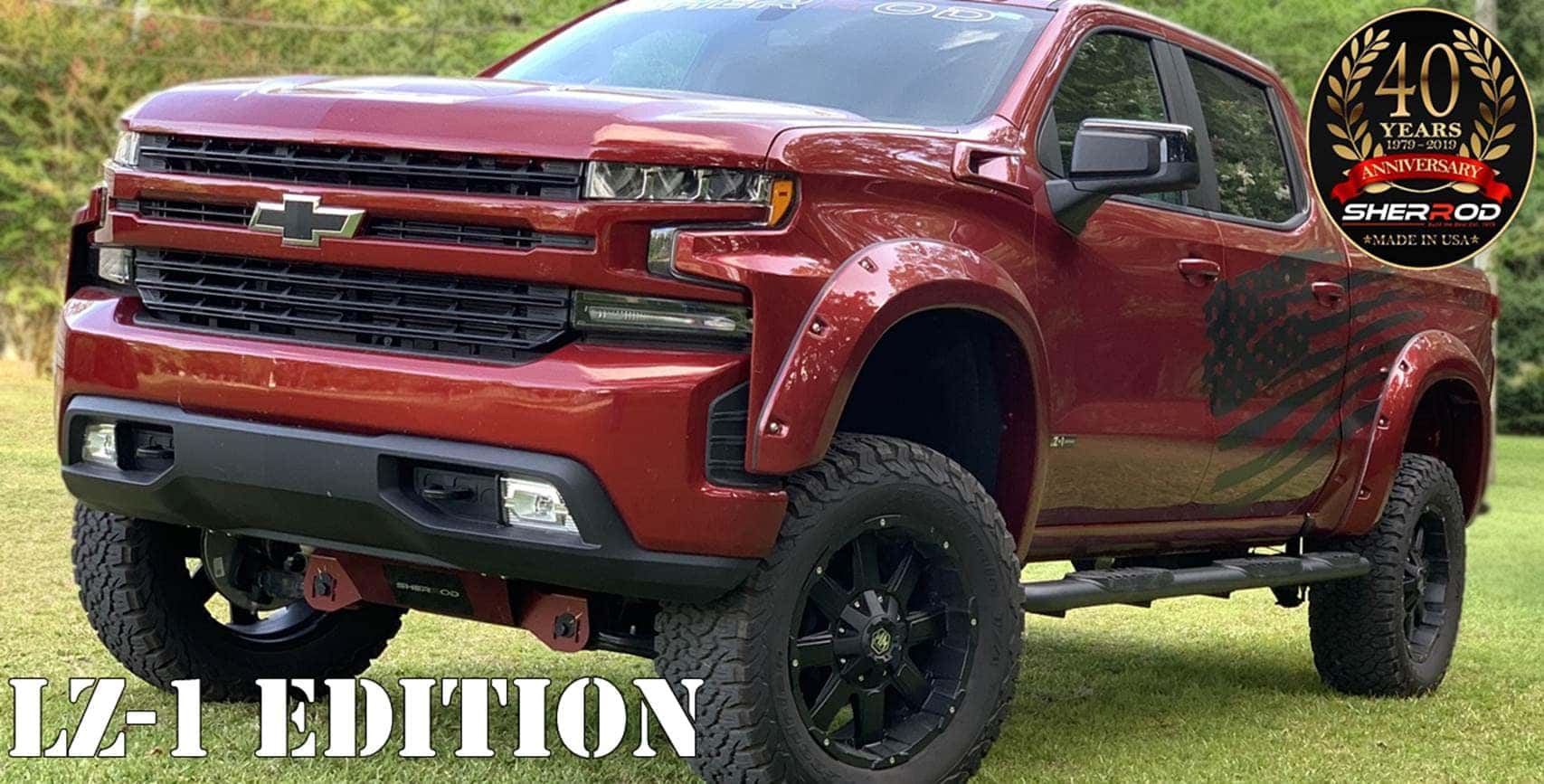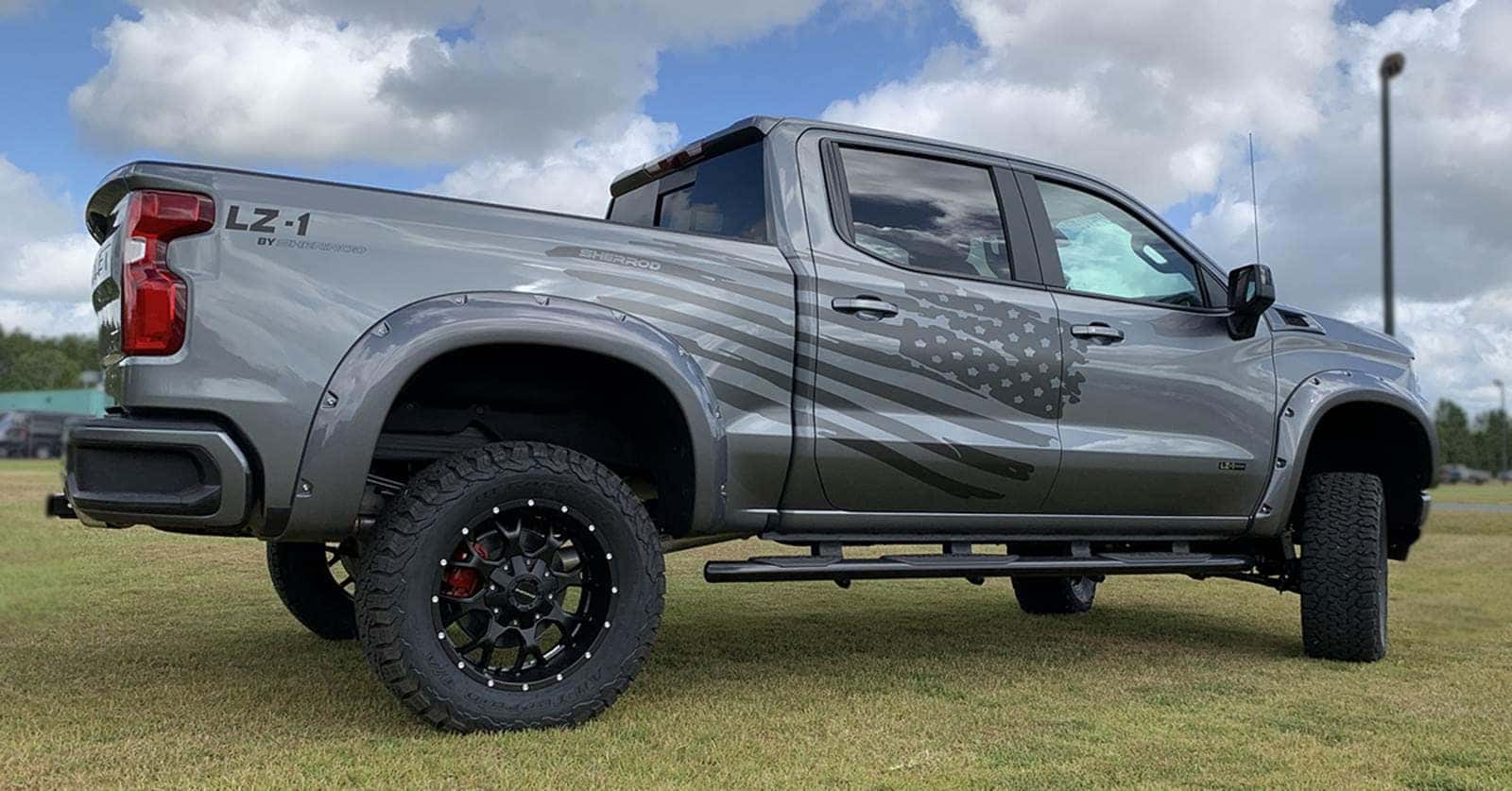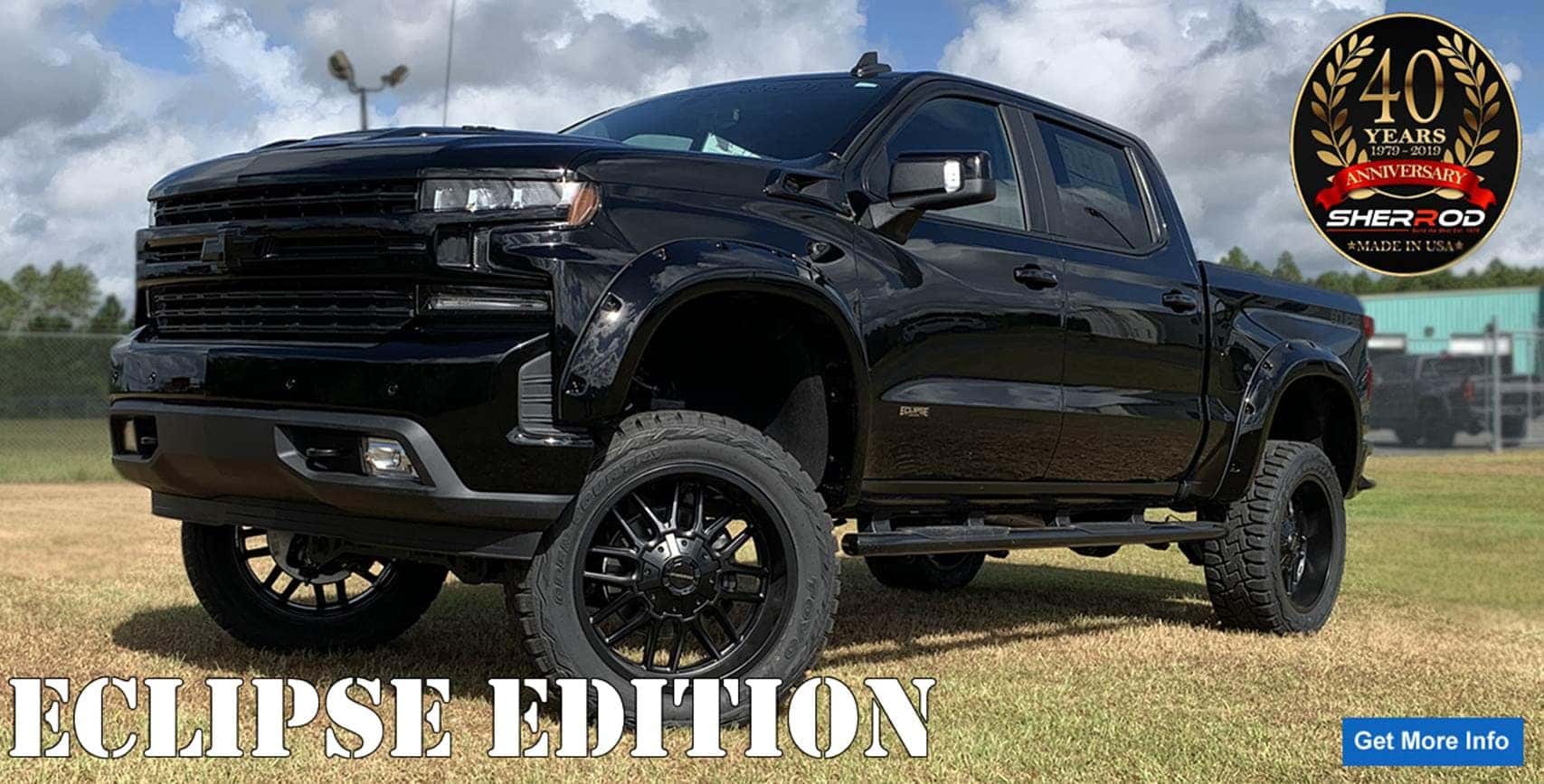 Who Says You Can't Have It All?
If you've ever seen Sherrod custom trucks barrelling down the road, you know they're big. You know they're tough. And you know that they're luxurious. But did you know that in addition to their custom-built underpinnings, you can take things to the next level with key features like:
Custom LED Power Running Boards
Armored Running Boards
Wheel Mounted Rock Lights
A Locked Personal Item/Gunsafe
Rear Headrest XBOX/PS4 Console
Wireless Headsets
Hammered Steel Front & Rear Bumpers
Private Label Wheels
A Spray-In Bedliner
Twin-Painted Racing Stripes
Custom Hood Scoops
And so much more. All of these options are built on a proprietary platform including a 6" lift, wheels from 20"+, performance exhaust, speed calibration, high speed balancing, painted brake calipers, and more final-drive accents than a compact car will know what to do with when they see you coming! Wondering just how unique these Sherrod trucks are? Compare them to any of our SCA lifted trucks and let the games begin!
Dyer Chevy Near Melbourne. Where Things Are Different
You came here looking for something extraordinary, and we're proud to have the most incredible lifted trucks for sale anywhere in the area. But our operation isn't just about selling incredible custom trucks. It's about making sure that you, the real truck enthusiast, finds a place to hang your hat where your passion is met at the same level.
There could be a ton of different reasons why you're looking for one of these trucks. Maybe you need the baddest looking animal on the worksite. Maybe you like rolling down the freeway knowing that you can be seen without anything obstructing what you see coming up ahead. Maybe, as most of us know, that the right truck is an extension of self. Got a date lined up? Yeah. A Sherrod custom can help you with that, too.
Dyer Chevy knows what it means to stand out and be different. In fact, we give out an award every year to a non-profit organization that makes the biggest difference in our communities. We're all about celebrating individuality down here, and we know you want the same. So, whether it's one of our Rocky Ridge Trucks for sale or any of the vehicles you'll find on our lot, we can't wait to help you stand out from the crowd. The only thing we're really waiting for, is you.
Research Other Chevy Models In Vero Beach, FL