Specialty Vehicle Engineering: Performance Vehicles In Florida

We are extremely proud to have a partnership with Specialty Vehicle Engineering (SVE) that truly maximizes the talent and value of our Yenko Camaro and Yenko Silverado. NHRA NED Drag Racing Hall of Famer Ed Hamburger founded what has become the industry leader in performance parts and altering specialty vehicles in the three decades it has reigned. After years racing his 340 Duster against the great speed demons of his era, Ed turned his focus away from the steering wheel and instead to all the other elements of the car. Packages targeting horsepower gain, fuel efficiency, top speed increase, and lower emission requirements have grown into signature SVE touches as the company has matured, with the focus now being limited-release vehicles. Once this group of engine experts and car geeks at our performance car dealership puts their minds, hearts, and hands on a model, it's destined for greatness.
Make SVE Your MVP
As we mentioned at the top, two models, in particular, shine bright after receiving the Specialty Vehicle Engineering touch. Strap in, press down, and let the full-throated roar of an SVE-modified 1000 horsepower Camaro or 800 horsepower Yenko Silverado rattle through your chest. Once you've driven one of these fast-paced limit pushers, you'll know the difference between driving an artfully crafted piece of high-speed machinery built by Specialty Vehicle Engineering and a car from anybody else.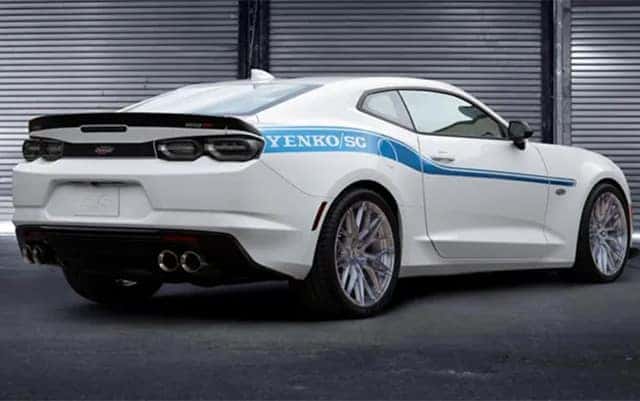 The Yenko Edition Camaro can reach over a thousand horsepower when Specialty Vehicle Engineering gets their hands dirty. They'll transform your Camaro inside and out to create a custom-fit car that you won't find anywhere else. We're not just talking about a booming Stage II engine that's supported by a litany of racing-related adjustments under the hood but also about badging on your custom-painted carbon fiber hood composed of a combination of nine exterior color choices and graphics made from durable vinyl that is original-equipment quality. While commonly found wraps or custom paint/graphics jobs wilt in the face of weather conditions or lengthy drives, the tried-and-true materials and meticulous process SVE use hold strong against peeling, fading, and cracking. Drive with confidence. Nobody is going to bring more power to the table or look as good doing it.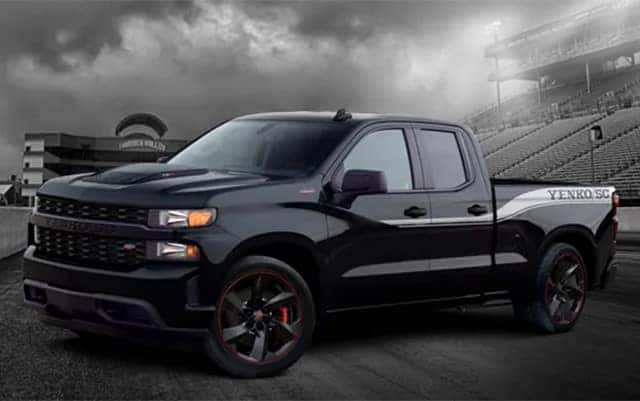 The Yenko Edition Silverado is a full-bellied beast that brings some good-natured grit where you need it most. Step into a powerhouse engine that delivers eye-popping power statistics and includes a three-year, 36,000 mile warranty. This heavy hauler can tow just about anything you need (when properly equipped), and no other truck matches strength with style so effortlessly without sacrificing one for the other.
This clubhouse leader among all of our Sherrod custom trucks for sale is highly coveted and even more limited. So if you're in the market for a truck that looks amazing and performs even better, you better act fast.
Forged by Experience, Inspired by the Future
When Specialty Vehicle Engineering made its debut back in 1987 as SLP, founder Ed Hamburger never could have imagined the lofty heights his team has reached and continues to strive for. Though his credentials on the race track are undeniably the stuff of legend, we're proud to partner in Vero Beach with a company that has gained the respect of drivers seeking power and panache nationwide. This team of automotive geniuses approaches each and every vehicle that comes off their line like it's a race for all the marbles, and they always finish first. We're confident that the next three decades for Special Vehicle Engineering are as innovative and excellent as the previous years have been.