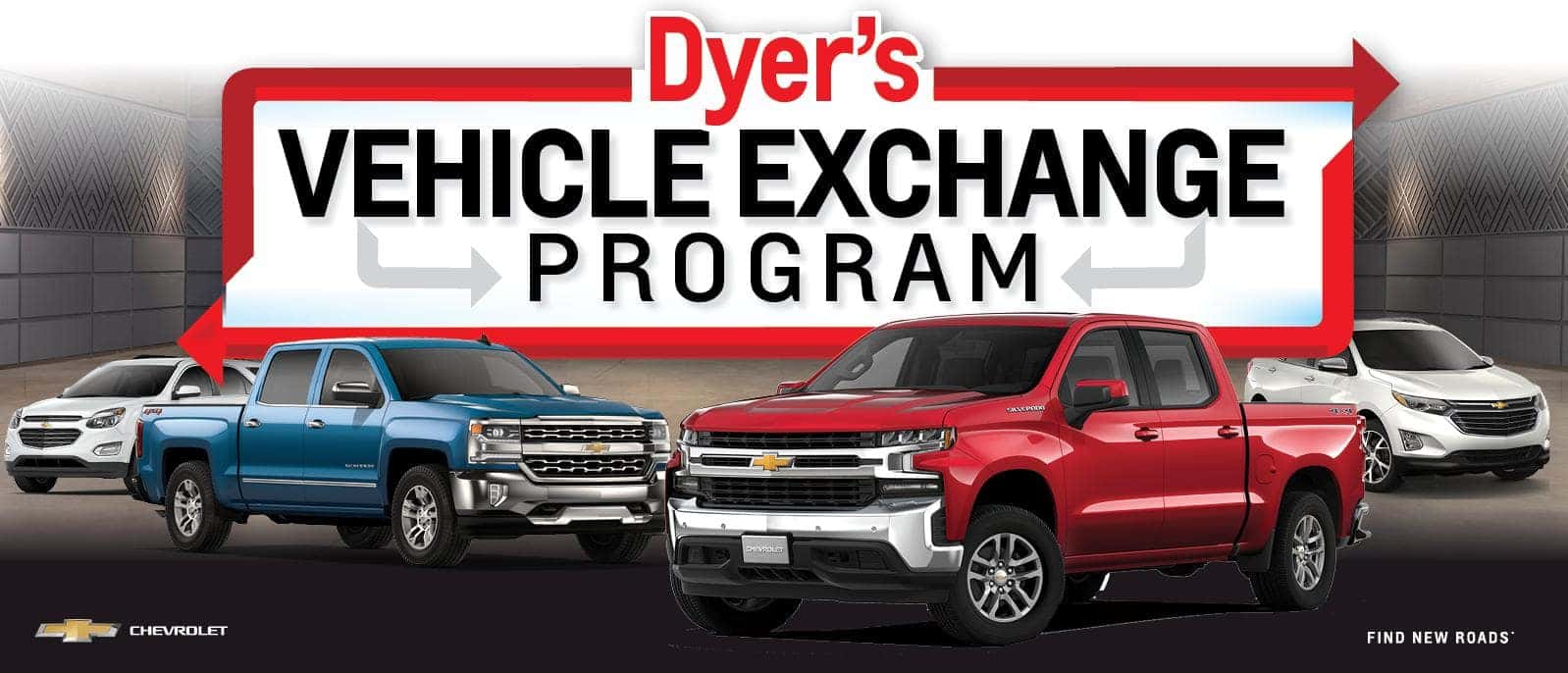 Vehicle Exchange Program Near Melbourne, FL
With our Vehicle Exchange Program, we make the impossible possible. You can save money by getting a brand new car. We're not joking! When you own an older model, general repair and service expenses can really add up over time, even though you're still paying the same monthly price for it as you did when it was new. That's where getting one of our new Chevy vehicles for sale thanks to our Chevy upgrade program can really come in clutch.
What Is the Vehicle Exchange Program?
The Vehicle Exchange Program is exactly what it sounds like: an opportunity to exchange your old vehicle for one of our brand new Chevy vehicles for sale courtesy of your premier Chevy dealer near Melbourne: Dyer Chevy!
When you choose to take part in our Vehicle Exchange Program, we'll have our experts assess the state of your current vehicle. Then, we'll talk with you to see what your current payments are, what you need out of your vehicle, and what your finances can do for you. Our end goal is the same: getting you in a brand new Chevy vehicle while keeping your monthly payment close to where it already was.
This way, you're left saving money month to month on repair costs. This means you can allocate an extra $100 or so each month to other bills, groceries, or household necessities instead of upkeep on an older vehicle.
Dyer Chevrolet Vero Beach VEHICLE XCHANGE PROGRAM
Did you know that many times, you can SAVE MONEY by getting a NEW car? YES, it's true! Over time, especially after your warranty expires, those maintenance costs can add up quickly. On average, starting at your fourth year of ownership, your average maintenance cost is $840 per year if you drive 15,000 miles like most of us. That's $70 per month added to your monthly bills. Couple that with the increased fuel efficiency of new vehicles, and even a 2 to 5mpg increase in mileage can be as much as $50 per month back in your pocket. Your old car could be costing you as much as $1500 per year that could be covered by a new warranty!
If you're in the market for a new Chevrolet, or even just curious about what you can get for what you're currently paying, stop by Dyer Chevrolet Vero Beach and talk to our specialists about our Vehicle xChange program. We'll assess your current vehicle and help you upgrade to a new Chevy – all while keeping your payments in the same price range. No other dealership in the Sebastian, Palm Bay, or Melbourne area offers a service like this. Stop by Dyer Chevrolet Vero Beach to see for yourself. Don't get rid of it – xChange it!
This Is the Program for You
If you're living near us in Vero Beach, we say it's time for an upgrade by taking part in our Vehicle Exchange Program! Plus, if you're an existing Dyer customer, you have even more rewards waiting for you, thanks to our Dyer Loyalty Program. The savings never stop when you shop Dyer, so call our dealership near Melbourne and ask about how you can get in on our Vehicle Exchange Program today!